It's impossible to deny the prevalence of social media platforms these days. Social networks have proven to be so powerful and influential that many businesses and non-profit organizations have integrated them to their communication strategies.
With the variety of social networks and content currently available online, it can be a bit intimidating to create pages that represent your organization, especially if you're new to social networks. Here are some of the most common questions we usually come across from nonprofits when it comes to the early stages of building up your social media channels.
Why should my organization be active on social media?
According to a recent study, 74% of online adults (ages 18 - 65+) in the United States reported to be active users of social networks. This means that your current and potential donors are out there, on social media, waiting for content from your nonprofit!
If this doesn't sound too convincing, according to a recent study 55%of those who engage with nonprofits via social media have been inspired to take further action. Although you shouldn't place all your fundraising eggs in one basket, social media can definitely help you boost your online donations and donor engagement.
Source:
Digital Persuasion
What social platforms should my nonprofit be in?
Your organization might have existing Facebook, Twitter, Google Plus and LinkedIn pages, or maybe you just have Facebook. Take advantage of what you already have instead of trying to grow a new profile in a short period of time.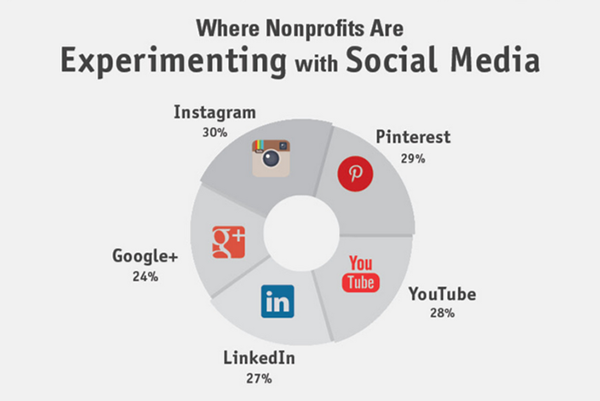 Source:
Nonprofit Marketing Guide
When promoting a fundraising campaign leverage the followers you already have and complement your promotional activities with email campaigns to your existing donor database. Most importantly, take note of where your current donors and cause supporters are connecting with you the most and focus your efforts towards that particular platform.
We are just getting started, how can we grow our following base?
If you do not have any social media profiles, don't worry! You can slowly start growing them and promoting them through your organization's current marketing channels.
A great way of growing your followers on social media is by enabling social sharing on your website. Social sharing allows your donors to spread the word about your nonprofit and fundraising activities directly from your website onto their personal profiles. This in turn gives your organization more online exposure, therefore it is imperative that this feature is enabled on your website.
There are various tools you can use to enable this, one of our favorites is AddThis. This tool allows your site visitors to not only share your pages but it also enables them to follow your existing social media profiles without leaving your website. Talk to your webmaster and they can tell you more about the options that will work best with your website.
What kind of content should I be sharing on social media?
Having people like your page on Facebook or follow you on Twitter provides an opportunity to appear on their feeds and give them daily reminders of your mission. It also allows you to keep them updated about what's going on within your organization and about any fundraising campaigns you currently have going on.
The content you should be sharing on social media should:
tell them something new, don't repost the same information you've sent them through mail or email as this will not provide any value to your followers.
keep the content you share on your nonprofit's page related to your cause.
keep the nature of your posts varied, to keep your followers to become bored with your content and potentially unfollowing you.
How can I keep my followers interacting with my content on social media?
Empower them! You've created a network (or various networks) of loyal followers. Invite them to share their ideas and testimonials about the organization. Encourage them to promote your campaign and raise funds through their personal social media networks. Contests are great ways to driving user participation participation and expand your network of followers.
Source:
Amputee Blade Runners
Remember, you can't depend on your users drive all of the engagement, it is important you also stayed engaged through your nonprofit's social media profiles. Reply to comments, share testimonials, give shoutouts and thank yous to those who donated.
How can I make my social media campaigns stand out from the crowd?
A great way of creating hype for your fundraiser is through hashtags. Give your fundraiser a short, sweet and to the point hashtag to make it standout from the other fundraising hashtags out there. Encourage your users to show their support on social media by sharing posts utilizing your hashtag.
A hashtag is also a fun way to create a call-to-action. The hashtag in itself can serve as the call to action to invite your followers to donate and for them to invite their personal followers to donate to your cause as well.
Social media is a powerful tool for spreading the word about your cause and raise funds. Remember that social media is a casual, conversational online environment and your messages should be designed with that in mind. Remember to not always create your messages around you asking for things, but also aim to spark conversation and drive engagement. This way, your followers will get to know your organization even better and connect with it on a deeper level.